The Files
The Elusive Doctor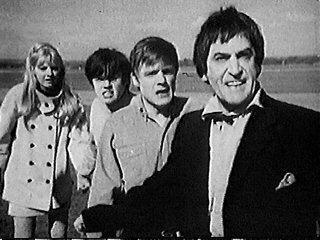 The Elusive Doctor is on the right of the photograph
This Doctor was first seen during the Gatwick Incident, which occurred at the same time as the Old Doctor was involved in the C-day Fiasco. The Elusive Doctor was also involved in the London event, which was the defining event in the creation of UNIT. He was also pivotal in the collapse of I.E. which was due to UNIT's first major operation. A similar agent appeared during the 1980s Seville Affair this was probably the same man, as he was described as being considerably older during this incident than in descriptions of him during the 1960s. We believe that he was an agent of C-19, who they used to help the creation of a significant armed force which they could have massive influence over (i.e. UNIT) and was possibly a replacement agent for The Old Doctor.
This Doctor was short with black hair and a mournful face. He wore an old frock coat, a spotted bow tie, and checked trousers. This gave the general impression of dishevelment. He had a blurred English accent that defied categorisation. He is known to have played the recorder, and came across as an elusive fool, an obvious tactic to hide his origins and motives. He was a scientific genius, who seemed to take control of situations by leading from behind. He appeared to delight in wrecking carnage among those he was opposed to. Some reports suggest that he seemed to know all the answers to problems before anyone else, and then prodded them towards solutions instead of just solving the problem himself.
If you have any other information about UNIT, the Elusive Doctor, or any persons or incidents connected to either, then please E-mail me.
Otherwise you might like to visit my personal homepage or return to the UNIT index.