The Files
The U.N.I.T. Doctor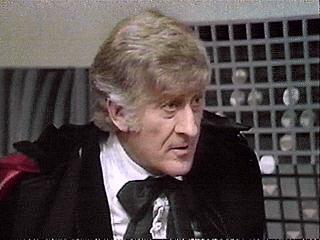 This Doctor was first seen at Ashbridge Cottage Hospital and was apparently the source of the 1969 inhuman blood rumours. Soon after this, he was involved in the Black Thursday Operation, after which he became UNIT's unpaid Scientific Advisor until 1975. Though, obviously, he doesn't appear on any payrolls, a number of cheques were made out to a Doctor John Smith during his period in this capacity. Most of these cheques were never cashed. The few that were made it into a bank account with the Coutts Bank in the name of R.J.Smith.
One of the co-signatories of this account was Susan Foreman, who was associated with the Old Doctor during his time in London and who disappeared just before the Shoreditch Incident. Another signatory was Victoria Waterfield, who was involved in the New World University Incident in 1995, but whose birth certificate is dated 1852. A third was Sarah Jane Smith, a journalist with connections to UNIT during and after this Doctor's period in UNIT. The last co-signatory was Melanie Bush, a computer programmer born in 1964 and involved in the Senénet affair in 1989, after which she disappeared.
The UNIT Doctor was involved in almost every major UNIT UK operation from the start of his association with them to the finish, which appears to have been during the Mummerset Monastery Affair. After this incident he was temporarily replaced by the Bohemian Doctor.
The UNIT Doctor was tall with curly white hair and a deeply lined face. He tended to dress extravagantly, wearing velvet smoking jackets, ruffled shirts, dark cloaks and the like. He also had a taste for slightly unusual methods of transport including a souped-up yellow roadster with the numberplate WHO 1 which he named Bessie. This vehicle was also used by the Bohemian Doctor and the Scottish Doctor during their associations with UNIT. He also built an unusual vehicle of unknown specifications, which looked futuristic and was dubbed The Whomobile by UNIT staff. He was also prone to making very unusual requisitions during his time with UNIT, particularly before January 1973, as well as making routine use of highly unusual gadgets.
The UNIT Doctor was very blunt and arrogant in his dealings with authority figures, leading to significant conflicts with important figures in the government and the armed forces, although not with any of those in C-19. His arrogant streak often led to him treating others as unimportant. Perhaps hypocritically he was often inclined to prevent UNIT from using standard military solutions to opponents on humanitarian grounds, despite being prepared to use physical solutions in the field himself. He also appeared to be concerned for the protection of the environment, being eccentric, principled and also a scientific genius.
The U.N.I.T. Doctor's origins and source of income remain an enigma, not being paid by UNIT yet not being employed by any other organisation. Was he actually a C-19 attachment to U.N.I.T.? If he was, why would they supply a financially independent Scientific Advisor to an organisation that they funded anyway? And why supply one at all when one of the most suitable scientists around for the job, Professor Elizabeth Shaw has been assigned to start on the same day as the first contact between your agent and UNIT? The whole question of who the U.N.I.T. Doctor was is an unsolved mystery, although we may speculate that he was C-19's successor agent to the Elusive Doctor and was attached to UNIT as a convenience.
If you have any other information about UNIT, the UNIT Doctor, or any persons or incidents connected to either, then please E-mail me.
Otherwise you might like to visit my personal homepage or return to the UNIT index.