The Files
Brigadier Lethbridge Stewart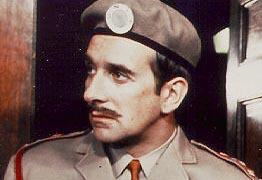 Born on the 4th of August 1930, Alistair Gordon Lethbridge-Stewart is arguably the most important man in the history of U.N.I.T. After attending Sandhurst, this Scotsman entered the army in 1953, following a generations-old family tradition. In the early 1960s, whilst in the Scot's Guards, he was posted to Sierra Leone, where he is believed to have fathered a child with a native African. Following that assignment, Lethbridge-Stewart, married and had children.
In 1968, then-Colonel Lethbridge-Stewart commanded the army detachment involved in the London Event. After this, and an informal conversation with Air Vice-Marshall "Chunky" Gilmore six months later, Lethbridge-Stewart was instrumental in the formation of U.N.I.T. As a result of this involvement and his handling of the London Event, Lethbridge-Stewart was promoted to Brigadier and given command of the UK branch of U.N.I.T. in liaison with department C-19 from August 3rd 1968. This was despite opposition from a number of senior military figures, who disliked his approach and his active involvement in setting up UNIT.
Lethbridge-Stewart was the commanding officer for most of the major incidents UNIT UK has, so far, been involved in. His command covered events from the 1968 happening to soon after the Black Star Era in 1976. During his time as UNIT UK commander he was divorced by his wife Fiona and lost custody of his two children Kate and Gordon. This divorce happened in 1970, about the same time as Cheviot Hills Shutdown.
Lethbridge-Stewart resigned from his post in September 1976 due to excessive administrative work and liaison work with UN Geneva, although command of a force like UNIT must bring its own unique psychological strains, which may have contributed. Upon his retirement he was awarded the CBE for unspecified services to the crown. Soon afterwards, he took up a teaching post at Brendon School and then suffered a nervous breakdown in June 1977. However he recovered fairly quickly and resumed his teaching role, possibly either the breakdown or the recovery was aided by the more bizarre events he had been witness to as part of UNIT.
In 1983 he was involved in the Brendon School Affair, which involved the Youthful Doctor. After this event, he continued teaching and, in 1995, was involved in the New World University incident. Soon after this, he remarried and retired from his teaching position. He was recalled to service by Brigadier Bambera during the Carbury Incident, where his considerable experience was called upon to help resolve the situation. A few months later, during the Martian Invasion, he took command of the resistance forces. When the invasion was defeated, he was promoted to General.
If you have any other information about UNIT, Lethbridge-Stewart, or any persons or incidents connected to either, then please E-mail me.
Otherwise you might like to visit my personal homepage or return to the UNIT index.